Dr Matthew Wilkinson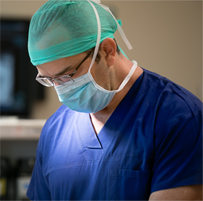 Orthopaedic surgeon
Specialising in sports injury management and arthroplasty of the upper and lower limb Mater at the Medical Centre, Townsville.
Director at The Townsville Hospital
Co-director of The Orthopaedic Research Institute of Queensland (ORIQl)
Adjunct senior lecturer, James Cook University
Sub specialist in arthroscopic procedures
Qualifications
MBBS Bachelor of Medicine (University of Queensland 1999)
FRACS (Ortho) Fellowship Royal Australian College of Surgeons 2009
Fellowships and Academic Awards
Lower limb arthroplasty and sports injuries of the hip and knee, London UK, Mr Fares Haddad
Reconstructive arthroplasty, University of British Columbia, Vancouver Canada, Dr Jordan Leith
Dr Magdalene Brodie Memorial Award, University of Queensland, 1999
Trevor-Taylor Research Award, Royal Darwin Hospital, 2003
Meritorious presentation, Surgical Research Society Australasia, Melbourne, 2004
Memberships
Australian Medical Association
Royal Australasian College of Surgeons
Australian Orthopaedic Association
Queensland Shoulder Society
Australian Orthopaedic Trauma Society
Orthopaedic Outreach
Australian Salaried Medical Officers Federation Queensland
Current Hospital Appointments
Senior Medical Officer, Department of Orthopaedics, Townsville Hospital
Visiting Medical Officer, Mater Hospital, Townsville
Visiting Medical Officer, Townsville Day Surgery, Townsville

Special Interests
My particular areas of interest in orthopaedics include:
Arthroscopy
Joint preservation procedures
Joint replacement surgery
Orthopaedic research
I also treat trauma and conditions of the hand and elbow.
I hope you find this website enjoyable and informative. You can be assured of the best quality of care at all times.